Pub quizzes have been a staple of the British social scene for decades and have recently gained popularity as a team building event in the corporate world.
10 tips to organise the perfect teambuilding pub quiz
Organising a pub quiz as a team building event can be a fun and engaging way to bring your team together and foster a sense of camaraderie. Here are ten tips on how to make the most of your pub quiz team building event:
---
Our 10 tips to organise the perfect teambuilding quiz
Form teams in advance: Assign teams ahead of time so that everyone has a chance to get to know their teammates before the quiz begins. This can help to break the ice and create a sense of camaraderie among team members.

Encourage participation from all team members: A pub quiz is a great opportunity for everyone to showcase their knowledge and skills. Encourage team members to participate and contribute to the team's answers.

Make the quiz fun and relevant to your team: Tailor the quiz to suit the interests and skills of your team. This can include questions about the company, the industry, or current events. If you are starting from a purchased quiz, take some time to add one industry specific question in each round.

Keep the competition friendly: Remember that the goal of the pub quiz is to have fun and build team spirit. Avoid creating a cutthroat atmosphere by keeping the competition friendly and encouraging good sportsmanship. Banter can be fun, but make sure everyone is having a good time.

Reward the winning team: Acknowledge and reward the winning team with a prize such as a gift card or a night out at a local pub. Pick an activity that can be shared with the whole team to make sure the bonding continues.

Make the quiz challenging: Create a quiz that will put your team's knowledge and problem-solving skills to the test. This will help to increase engagement and make the event more challenging and fun. If you don't know where to start, there are many sites where you can purchase a ready-to-play general knowledge quiz.

Encourage teamwork: Encourage team members to work together and collaborate to solve the questions. This will help to improve communication and teamwork within your team. The main goal of your teambuilding activity is not to find the best trivia buff, but instead to bond. Practical puzzles or challenges can make the experience for non quizzers more fun and challenging.

Make it a social event: Organise the quiz in a relaxed and casual environment, such as a pub or a bar, to make it a social event where team members can relax and get to know each other better.

Prepare and test the technology: Make sure your powerpoint presentation will run on the laptop you are bringing. Print out answer sheets in advance, make sure there are enough pens. Or, if you don't care for the hassle, use the QuizWitz Live quiz module to organise a paperless pub quiz.

Follow up after the event: After the quiz, make sure to follow up with the team members to discuss their experience. Make sure to take lots of photos and announce the top 10 teams within your organisation (better leave the bottom half out). Purchase a trophy to keep on the winners desk or think of other ways to praise the winners.
---
Conclusion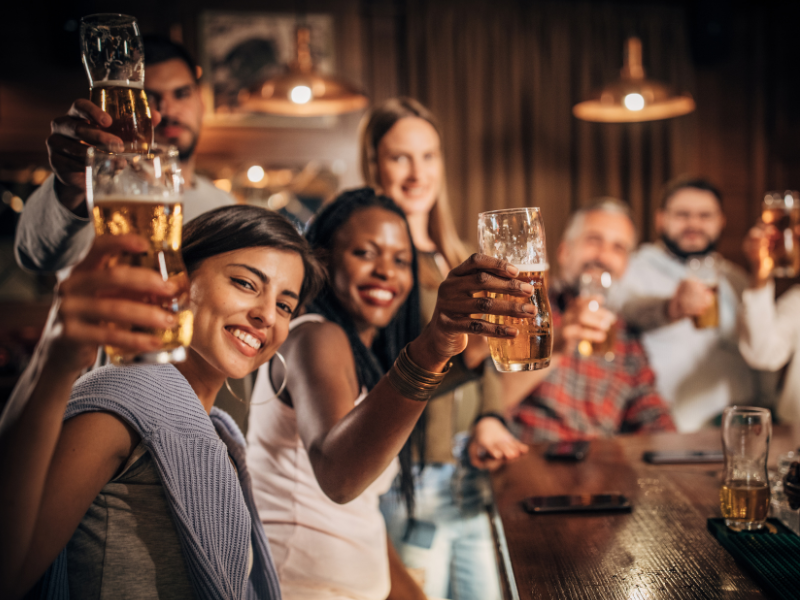 Overall, a pub quiz is a fun and engaging way to bring your team together and foster a sense of camaraderie. By following these tips, you can ensure that your pub quiz team building event is a success and that your team leaves feeling energized and motivated.