What is QuizWitz?
QuizWitz is a versatile quiz maker tool allowing quizzers to play; creatives to create; and hosts to host quizzes.
Forget correcting answer sheets and counting points; QuizWitz brings digital quizzing to you, either as a party game or as a full-fledged live quiz event tool. Meet with your players in venue or via live stream and give them the quiz of their lives.
---
What we believe
Respect the tradition
We respect the pub quiz tradition and make sure our software is compatible with most existing games. Our question types include multiple-choice -, open-, image-maps-, order and list-questions.
Focus on experience
With lightning-fast (human) evaluation we reduce 'dead' waiting times. Our design is polished and animated and is inviting to new (and younger) players. Fully integrated audio, video and midi support results in a truly tv-like experience.
Amplify your creativity
Our software is modular and modable, giving quiz makers an unseen freedom in implementing their own quiz games. Our round types are built with freedom of creator in mind, giving each quiz maker the ability to create their unique game.
---
QuizWitz software review
Gareth from All Things Quiz reviewed QuizWitz and made a video about it.
---
What we offer
Quiz maker for creators
Design your own quizzes with a variety of question and round types. Craft a fully personalized Quiz that suits your needs.
Digital quizzing
Challenge your friends, family, and colleagues to a friendly competition with our platform. Simply grab a smart device, connect online, and showcase your knowledge to the world
Share & enjoy
Join the quiz community and access a wealth of quizzes from all over the world. Share your own creations and connect with like-minded enthusiasts.
---
Are you ready to host your first QuizWitz event?
QuizWitz is your tool to bring family, friends, colleagues and customers together in an exciting battle of wits.
Use QuizWitz in a variety of ways. We're here to help you find ideas.
Family quiz evening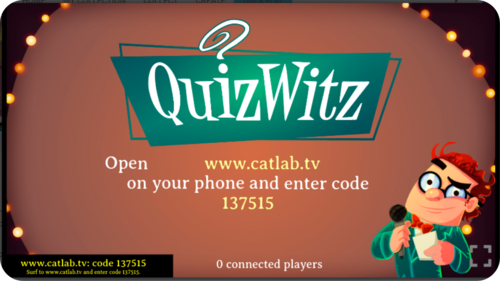 Play QuizWitz with friends and family for a fun evening filled with trivia questions. Get together or meet up online, agree on which topic to play and connect your smartphones and tablets. You're ready!
Pub quiz event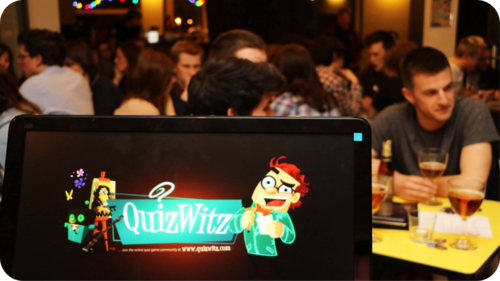 Organize any live quiz event. A pub quiz perhaps? Or spice up your presence at a convention or business event. We've got you covered in any situation.
Teambuilding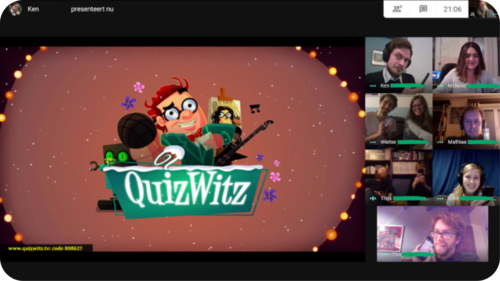 Organize a teambuilding event to bring your colleagues together, both via livestream and at the office, or at a fine restaurant perhaps? Enjoy a fun quiz game and test each other's knowledge.
---
Would you like to start a quiz?
---
No time to create a full quiz yourself?
In our shop, you can purchase your ready-to-play QuizWitz PRO quizzes. Just focus on your event and presentation skills. We've got you covered! Check out our QuizWitz shop for more information.
---
QuizWitz by CatLab Interactive
QuizWitz is a project by CatLab Interactive. We're a Belgian game studio focusing on web applications and games. Our projects aim to bring people together in a modern way and without barriers.
Our games connect!