QuizWitz Live is our quiz presentation tool that puts the whole game control in the quizmasters hands.
QuizWitz Live
Similar to other audience participation tools, players use their own smarthphone to connect to the game. Participants can use their browsers to connect, so no other apps are required to play the game.
---
QuizWitz Live interactive demonstration
You're welcome to try out our demo quiz, which will guide you through the fundamentals of hosting a QuizWitz Live game.
In order to play the demo you, you will need:
a pc/laptop (to play the game on)
a smartphone (to answer the questions)
---
What do you need to host a QuizWitz Live quiz?
In order to host a QuizWitz Live quiz, you will need the following:
1. One tablet / smartphone for each team
to answer questions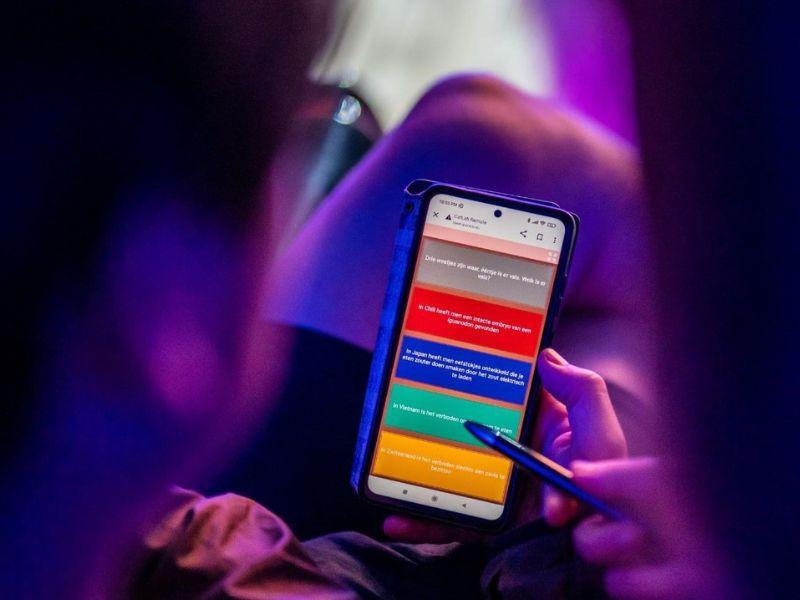 Each team will need at least one tablet or smartphone. We always suggest players to bring an iPad or Android tablet, as the larger screen size makes it easier for all players to see the screen.
As QuizWitz is a purely web based application, there is no need to install any apps. Players surf to www.quizwitz.tv and enter a code to connect to the game.
2. A large display, visible to all players
to watch audio- and video fragments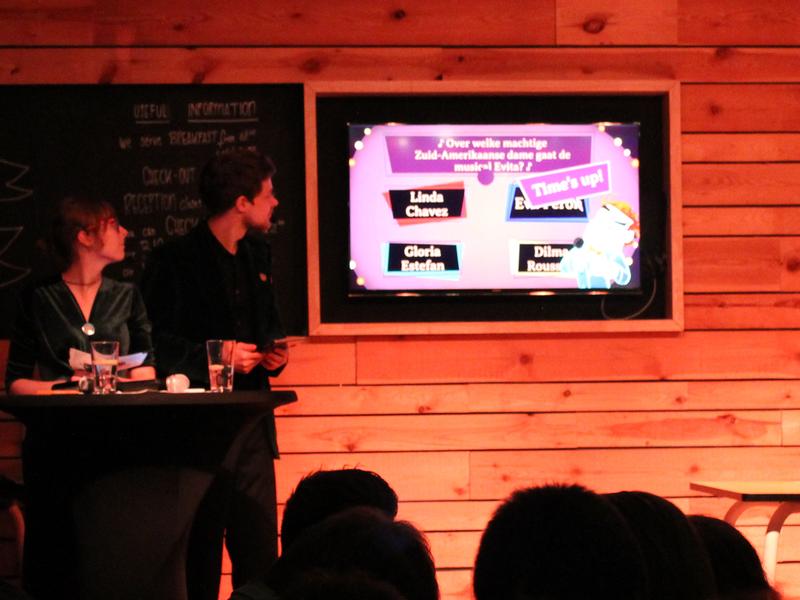 While not always required, usually you will want to display images and videos during your quiz. Therefor you will need a large screen or projection that is visible to all players in the venue.
This screen will be used to display the main QuizWitz screen.
If you are hosting a livestream quiz, you can instead share your screen.
3. A tablet/phone for the quizmaster
to deliver an exciting presentation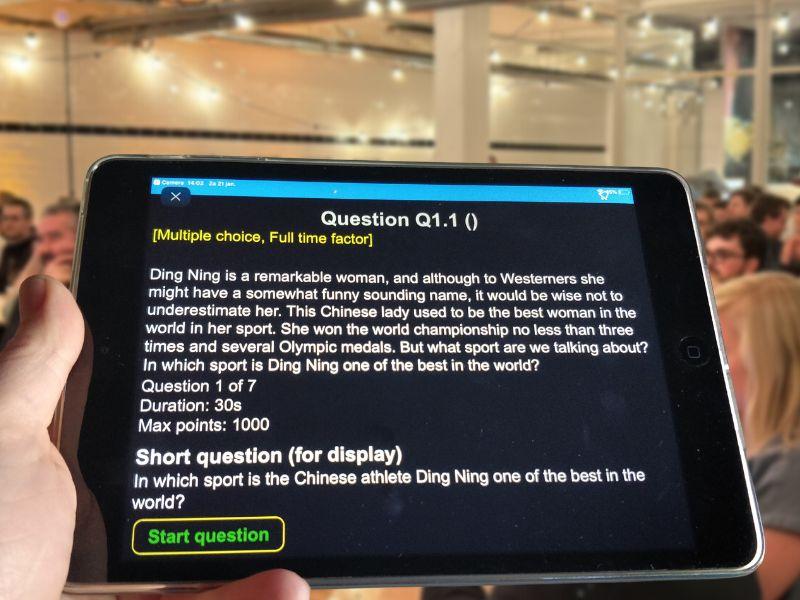 The quizmaster uses the quizmaster app, a carefully crafted online application that helps the host perform their presentation. The quizmaster app shows instructions on how the various round types work, the question that needs to be read out loud and - after the answers have come in - the answer results.
Additionally, the quizmaster app will keep track of fast rising teams or large drops, and will give suggestions on events to announce publicly (ie: Quiztina Aguilera has jumped from the 7th to the 2nd place this round!).
4. A laptop/tablet for the Jury
to judge open questions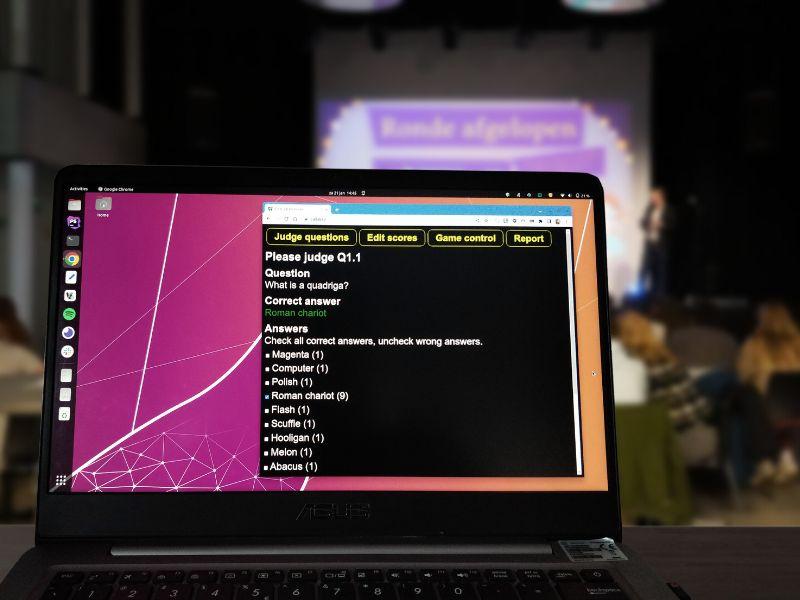 (Only applicable if you have open questions in your quiz.) All open questions in QuizWitz need to be manually corrected. Our jury app is optimized to evaluate large amounts of answers in a very short amount of time. Identical answers are grouped and an initial automatic evaluation is executed. While it is possible for the quizmaster to check the answers on the spot, it is better to assign a dedicated jury so that the quizmaster can focus on their presentation.
---
---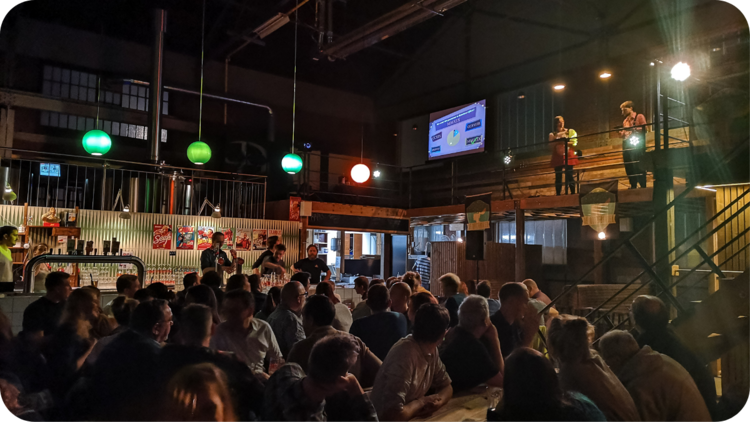 One quizmaster to control it all
Our Quizmaster App makes it possible to control the game from start to finish. Add any script lines or directions in the quiz editor, and they will appear on the quizmaster tablet.
The option 'live quiz' is a professional solution to organize a QuizWitz quiz event with a larger audience. 'QuizWitz Live' can be launched from the quiz editor. (Click 'Start QuizWitz Live'.)
---
What are the benefits of using our tools?
Surprise your team, fans, stakeolders, … with a fluent trivia event. Even if it's your first time, no one will notice, we promise. Your questions and lines show up on your screen step by step. This allows you to focus on presenting with your best game face on! You are also given insights on what players answer, who is soaring though the rankings (or dropping like bricks) and other interesting statistics.
Do you have an image to show? Or a video or audio file to play? That too can be controlled in the Quizmaster App. End on a high note by revealing the top players one by one, giving them a moment to shine.
All this gives you the power to be creative and provide a fluent presentation. You'll be able to focus on what matters: the questions and the players. Enjoy your time onstage or behind the camera and let QuizWitz do the rest.
If you add open answer questions or want to change settings and scores as you go, you can open the Jury App. This tool does not only allow you to judge answers in a quick and structured way, it can also generate a detailed report about your players, what they answer and what percentage of the questions are answered correctly.
---
PRO Game Seats
Game Seats determine how many players can join.
Each Game Seat represents a "player", which can either be an individual player or a team of players sharing one device. Players join by entering their team code or game code via their browsers. Game Seats determine how many players can join your event. This means, to use the Quizmaster App in a live event (in venue & via live stream), you will need to activate Game Seats.
Game Seats stay active for 48h after activation. This means you can play multiple games with active Game Seats during this time frame. You can activate Game Seats in your profile or straight up in the Quizmaster App.
---
Livestream / online meetings
QuizWitz is an online quiz tool that helps you to engage with your audience. Your fans and community members can join your quiz using nothing but a second browser. Make sure they keep an eye on your live stream as well!
As a streamer you can choose to play party games on the platform or host a custom built quiz. For this, you can use the Quizmaster app and have control over your event.
A live stream via any streaming service like Twitch and YouTube Live is subject to a delay of several seconds. To prevent the answer screens showing up too early for your players, you can add a similar delay to the software via the Jury App.